Conquering Challenges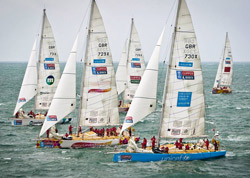 From 3 December until mid January I will be involved in the Clipper round the world yacht race. We will be racing the 5015 nautical miles from Western Australia round Tasmania to Sydney, entering in the Rolex Sydney to Hobart yacht race and then racing from Hobart up to the Whitsunday Islands in Queensland. At 64 years old this is a very serious challenge and a once in a lifetime adventure.  As you can imagine, never having sailed before, it has been a steep learning curve but the hardest part is leaving my beloved family for almost 8 weeks. I will be visiting my father, brothers and sister in Australia after the race.
Follow Me Around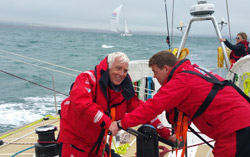 Here is a link to an excellent race viewer where you can follow our progress in the race. I will be on the Derry Londonderry Doire boat. . Thank you so much for all the well wishes and I look forward to sharing my experiences with you in the New Year. You can get in touch with me through Suzy or Christina at the clinic, or by email.
My son Dr Aram Proudman who runs the Letterkenny chiropractic clinic has joined us from California and will be taking care of the practice and providing your chiropractic healing while I am away. I know that you all understand the importance to your long-term health of having a healthy spine and nervous system so please keep up your care.
Wishing you all the very best over the Christmas holidays and a successful healthy and happy New Year.
Kevin Proudman